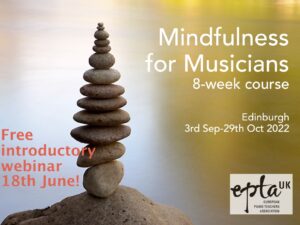 About the course
This course explores ways to bring mindfulness into your musical life.
Mindfulness practice has plenty to offer musicians. It has been shown to benefit performing, practising, teaching and composing. This course offers fresh perspectives on common issues in musicians' lives – performance anxiety, mind wandering while practising, instrument-specific strains, to name just a few.
The course is for musicians who would like to:
• develop clarity, focus and presence
• cultivate mental and emotional wellbeing
• boost creativity
• fine tune body awareness
• deal more effectively and kindly with stress and challenges
• improve relationships with pupils and audiences
Join me if you are looking for an introduction to mindfulness practice, or if you have practised mindfulness before and wish to apply it to your musical life. You will learn key principles and a range of practices to bring mindfulness into your daily life and musical activities.
Practices include:
• Sound meditation
• Body scan
• Breathing meditation
• Walking meditation
• Mindful movements
Themes to be covered include: Grounding Through Body and Breathing; Being Present in Life and Musical Activities; Being with Difficult Experiences; Acceptance and SelfCompassion; The Art of Living Mindfully.
Dates, times & course fee:
This course combines in-person and online learning. It consists of four half-day workshops in person in Edinburgh (Saturdays 3rd & 17th September, 1st & 29th October at 1-5pm) and three 1-hour online classes (Saturdays 10th & 24th September, 8th October at 4-5pm). A tea/coffee break with light refreshments is part of the half-day workshops. Please plan to be present at all classes if possible, as each one builds upon previous content.
The Edinburgh venue is fully accessible with a ramp at the front door, a lift to all floors and accessible toilets.
For EPTA members, three levels of pricing are available: £225 (supporter), £200 (standard), £175 (concession). For non EPTA members, two levels of pricing are available: £235 (standard), £210 (concession). Please choose a price according to your circumstances, payment options are available.
Resources and guided practices will be offered weekly to support your home practice. You might wish to earmark 15-30 minutes per day for mindfulness.
Booking and information:
Early booking is recommended as the group is limited to 15 places.
To book your place, or request further information, please contact EPTA representative Gavin Stewart (, 07852 981507).
---
Join me for a free introductory webinar on Saturday 18th June!
---
Testimonials
"Excellent course. Thank you so much for such great planning and support."
"I now meditate before practising and composing – even just short ones help with focus and creativity."
"I will continue to use the resources from the course. I am very pleased to have taken part and am very grateful to Susanne for her work and expert facilitation."
"Very happy with how mindfulness has affected my daily life."
"I left the course kinder to myself, strengthened as a musician, slowed down in every good way, and deeply grateful for Susanne's skill, scholarship and honesty."